25th June 2022 | Saturday | 4.00 PM
Please fill up the registration form to receive the zoom meeting link in your mailbox.
About School of Science
Considering the expertise available in the various disciplines of science the NMIMS Deemed to be University has established a Sunandan Divatia School of Science whose very purpose is to develop technically skilled manpower for industry. With the boom in information technology and more and more sophistication in instrumentation techniques, there is now a very thin dividing line between the various disciplines of science. Therefore there is a greater need for flexibility in scientific thought as well as training manpower on an interdisciplinary plane. With this thought in view, the NMIMS Deemed to be University has introduced, highly innovative and unique interdisciplinary courses at the School of Science from the academic year 2007-2008. Sunandan Divatia School of Science provides undergraduate and postgraduate students an opportunity to be a part of the unique learning methodology of the university, which lays emphasis on academic excellence combined with industry oriented training. To know more: https://science.nmims.edu/
About Ph.D. Programs
The NMIMS (Deemed to be University) introduced Ph.D. programmes in Biological Sciences and Chemistry in July 2007.The salient feature of this programme is the emphasis being laid on the overall development of laboratory skills of a research student coupled with an expansion of his/her knowledge base through an interdisciplinary course work comprising lectures and practicals in the first year of the course and subsequently fine tuning these skills in a particular area of specialization. While the research student will have ample opportunity to acquire hands-on training on modern, sophisticated instruments/equipment wherever necessary, he/she will also be able to benefit from the expertise of one or more supervisors, wherever needed.
Presenter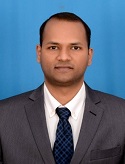 Dr. Gurudas P. Mane
Assistant Professor
Specialization: Nanoporous materials, Photocatalysis, CO2 photoreduction
M.Sc., Ph.D.
Areas of Specialisation
Nanoporous materials, Photocatalysis, CO2 photoreduction
Academic Experience:
2 years Post-Doctoral research Max Planck Institute for Kohlenforschung, Germany
2+ years as an INISPIRE Faculty fellow at Bhabha Atomic Research Centre, Mumbai, India.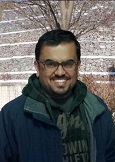 Dr. Harinder Singh
Assistant Professor, Biological Sciences
B.Sc. (Hons.)-Microbiology, M.Sc.-Biotechnology, Ph.D.-Microbiology
Areas of Specialization
Molecular Biology, Biochemistry and Microbiology
Academic/ Research Experience
19 years of research/teaching experience which includes over 12 years post Ph. D work.
Work Experience
He obtained his Ph.D. in Microbiology from Bhabha Atomic Research Centre, Mumbai, India, where he worked in the area of cyanobacterial stress response. He worked in a private company as Research Scientist immediately after his Ph.D. Later, he worked as postdoctoral researcher at Korean Atomic Energy Research Institute, South Korea and then at IIT Bombay, Mumbai, India. He had also worked as an Assistant Professor in an undergraduate college before obtaining his Ph.D