About School of Science
The NMIMS (Deemed to be University) introduced programmes in Biological Sciences and Chemical Sciences in July 2007. The salient feature of this programme is the emphasis being laid on the overall development of laboratory skills of a research student coupled with an expansion of his/her knowledge base through an interdisciplinary course work comprising lectures and practical's in the first year of the course and subsequently fine tuning these skills in a particular area of specialization. While the research student will have ample opportunity to acquire hands-on training on modern, sophisticated instruments/equipment wherever necessary, he/she will also be able to benefit from the expertise of one or more supervisors, wherever needed.
About Integrated Biomedical Science
This is a 5-Year Integrated M.Sc. in Biomedical Science program that can be pursed after 12th Grade. This is a full-time program with curriculum designed to cater to the needs of the Biotechnology, Pharmaceutical, Clinical Data Management, Molecular Diagnostics, and Biomedical Industries. The course provides an understanding of the basic concepts with a holistic view to offer a broad, thorough and intellectually challenging approach in the areas of Science. The focus is on training the students in both theory and applications of specialized areas. Apart from enhancing their language, communication and computer skills, the course also aims for holistic development of their personality through training in soft skills and through social involvement
Presenter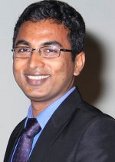 Dr. Brijesh Sukumaran
Assistant Professor, Biological Sciences
Specialization: Microbiology, Pharmacology, Cell Biology
B.Sc., M.Sc., PGDCR, Ph.D.

Areas of Specialisation
Microbiology, Cell Biology, Immunology, Pharmacology
Academic Experience
Dr. Brijesh has been working with School of Science from June 2011. Previously, he has worked at the Foundation for Medical Research (FMR), Mumbai, as a Post-Doctoral Fellow. His responsibilities were to format initiatives and design processes towards down-streaming the potential of the guava leaf extract as an anti-diarrhoeal into a standardized product.